Grab your broomsticks, sharpen your fangs, and prepare to enter the enchanted world of Halloween costumes.
After 2,000 years of the same holiday and the same costumes, Halloween never gets old. The tradition of wearing costumes originated with the ancient Celtic festival of Samhain. People would light bonfires and wear costumes to get rid of ghosts. The question now is what type of Halloween costumes are worn this many years later and which ones are the best for this spooky holiday.
Junior Jessica Anavim mentions her favorite costumes and why.
"I like the angel, vampire, and cop costumes in specific because it's basic but is cute every time and I feel very good and confident in these costumes," she said.
Costumes are not only seen in person but everywhere online as people post their costumes very frequently.
Anavim mentions her favorite costumes she has seen on her friends.
"The costumes I like to see on me and my friends are fairies and pirates because they are simple to do and they look really good on everyone. I love watching them feel confident in their costumes," she said.
Halloween costumes are mainly used as a great way of self-expression and can be used as a vessel for confidence.
Junior Laura Dank mentions why she feels confident in her favorite costumes.
"My top three Halloween costumes are angel, nerd, and bunny. These costumes make me feel post-confident because I am able to incorporate clothing pieces that I already own to personalize the costume and make it more unique from others," she said.
Dank explains why these are her favorite costumes and why they stand out to her.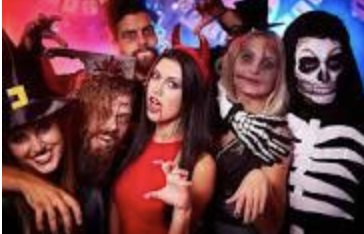 "These costumes stand out compared to other costume
options because they are able to be interpreted and presented differently by everyone. Therefore, making the angel, nerd, and bunny costumes my overall favorite" she said.