As the leaves began to fall and turn orange and brown, children used to get so excited over October 31st, the infamous holiday: Halloween. 
Teachers would put on "Hocus Pocus" and decorate pumpkins in class. Parents would take their kids apple picking and go on spooky hay rides. Now as teenagers, it is almost normal to not get excited about holidays anymore. 
Pulling up old pictures from primary school, when everyone would dress up in their favorite princess or scariest monster, gets nostalgic especially because teens don't really do it anymore because they are just are expected not to. Today, teenagers are embarrassed and most of them don't even go trick or treating. They just stay home and wait to go out later in the day. After interviewing juniors, Charli Goldstein and Katerina Dokas, they both agree that now since they are in high school they feel Halloween isn't the same.
"We should have a school parade like we did in middle school and if we have school on Halloween we should do spooky activities," Goldstein said. 
These two students are both on the same page on how the school shouldn't stop with fun holiday activities.
"I agree, the school holiday spirit really just needs to be boosted," Dokas said. 
In middle school, kids were eager to draw pumpkins or do cross words with spooky words, but since the transition to high school, those fun activities have stopped. Most classrooms don't even have any decorations anymore. Students used to count down the days until the annual class party with the thin sliced pizza that everyone would scarf down no matter how cold or bad it really was. That wasn't the point, everyone was just so happy to be together and celebrate Halloween. Yes, being a teenager has a lot more responsibilities and stress, but that doesn't mean they can't still dress up and have fun like children do.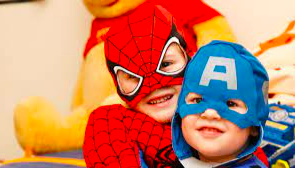 "Everyone should start dressing up at their favorite monster or superhero because why not?" Goldstein said. 
Doing these small holiday activities can easily boost students moods. Student just crave the spooky spirit!