Girls volleyball is on a roll this season, especially with their key asset: Taylor Miller. The girls volleyball team won against teams like Teaneck, Tenafly, Pascack Valley and a close game with IHA which ended up going into three sets. 
Taylor Miller, a senior on the girls varsity team, plays outside hitter and is a spotlight on and off the court. Miller has been a four-year varsity starter in basketball and track and is continuing to beat records and get recognized for her talents.
Miller emphasized her plans for the season and her role on the team as a captain. 
"My plans and goals for this volleyball season are to work with my team to first get better and create good chemistry. Being a leader doesn't just depend on my play but also my words of encouragement and energy that I radiate to my teammates," Miller said.

While attending NVD, Miller explains the reason as to why the girls volleyball team is such a strong team every year. "Coach Beth has been a constant support and a great coach throughout her coaching career. She strives for success and is always coming up with new game plans to secure a win" Miller said.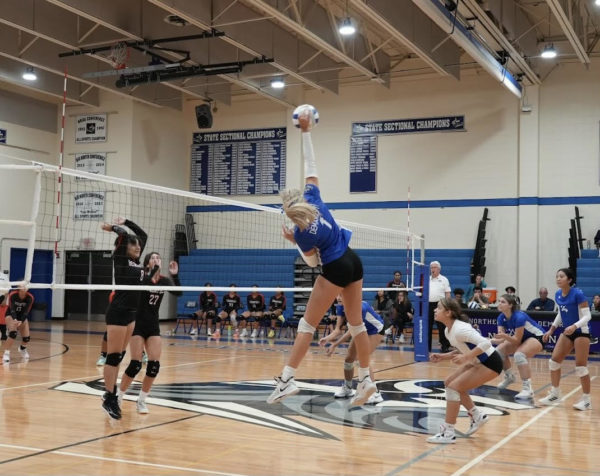 Miller emphasizes this by saying, "Beth is the type of coach to preach mental toughness and leadership. She devotes her whole life to volleyball out of her genuine love for the game and spends every day doing little things to make each player on this team better and stronger."
Miller believes in herself and that her team can be great this year, especially because of the tremendous amount of support she gets. She hopes to win championships this year and go far into the season especially since it is her last season. Miller will further her career with volleyball at Marist College where she will attend next year eager to start a new life there.