Athlete of the issue: Zach Kochnover
After a decade of playing baseball, Zach Kochnover is getting recognition for his performance on the field. The sophomore plays for NVD and club baseball teams.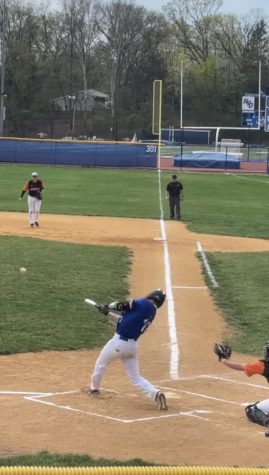 Kochnover had been playing baseball for over a decade and there's no place he'd rather be than on the field. Kochnover's career is just getting started as he has many plans for the future.
"I would like to commit to a Division I college for baseball. Playing baseball at the collegiate level has always been a dream of mine and it is a goal that I have been working towards for a while"" Kochnover said.  "I am hoping to commit to a school in the ivy league as I feel that it has the perfect balance of academics and athletics that I am looking for."
Kochnover strives to demonstrate leadership and perseverance on and off the field. He tries to make sure every kid is involved by pushing them out of their comfort zones on the field. He leads by example through his determination and dedication to the team and the game.
"I believe my leadership, determination, and dedication make me a great athlete. I pride myself on being a natural leader on and off the field. I feel that showing my teammates that doing such leads to success will cause them to want to do the same" Kochnover said.
Passion for the sport is what keeps Kochnover on the field 24/7. He has loved the sport ever since his father introduced it to him at a young age. There's no place he'd rather be than the baseball field.
"I am so passionate about playing baseball because it is my favorite sport. I have played it for over a decade. Baseball is everything to me and I never want to stop playing it. I share this passion with many of my friends and members of my family, especially my dad who got me involved in baseball as soon as he could" Kochnover said.
Even baseball coach, Patrick Gabriele believes that Kochnover's passion for the game is what sets him aside from other players.
"What sets Zach aside is his love for baseball. Many student athletes play certain sports in high school because they are good athletes. Zach has a genuine passion for the game of baseball. Although I think Zach is athletic enough to thrive in other sports, his work ethic and willingness to learn in the game of baseball makes him different from so many other high school players" Coach Gabriele said.
Kochnover's coach also mentions how he is extremely coachable and works hard. He voices how Kochnover is very hard working and puts so much effort into his team and the game. 
" Even though he is a sophomore, our upperclassmen know how important he is to our team's success,"Coach Gabriele said.
Kochnover has many plans for himself and how this summer season will go. He plans on continuing to play for the Power Arm club team and travel all through the summer. He has played for Power Arm, based out of Ramsey, for the last three years. He will be traveling to Georgia for  a week-long tournament where he will be playing up an age group.
"In addition to the school team, I am also involved in club baseball. I am hoping to carry my success in the high school season onto the summer season" Kochnover said.