Farewell High School Sports: Co-Editor in Chief Quinn Postman
Soccer
For all of my life, my world has revolved around the sport of soccer. At an early age, I fell in love with the game and was lucky to meet most of my friends while playing it. So when I reached high school, I was very excited to play soccer for the high school. But I didn't realize what I was getting myself into. 
High school soccer is a different type of soccer. The game is more physical, rougher, and more demanding than club soccer. So when I arrived for tryouts, I am not ashamed to say that I was utterly dumbstruck and very underprepared. Everyone else was faster, bigger, and mentally stronger than me. Back then, I let every play define the next one. I struggled with confidence. I would always get extremely nervous before playing, afraid of making mistakes. I played on the freshman team my first year, which was fun because I was with most of my friends, but I wasn't playing the way I wanted to. 
Once sophomore year rolled around, I was put on the JV team because the coaches wanted me to get more playtime. At the time, I was upset that I didn't make the varsity team, mainly because most of my friends were on the varsity team. I have distinct memories of looking down on them practicing, and I remember being extremely jealous. However, looking back at it now, that year on JV was crucial to me. I had the opportunity to captain the team, and I was someone that the coach relied on every game and every practice. That experience extremely helped my confidence. 
I knew I would make varsity my junior year. I had a lot of fun on that team. I played a new position for the first time and played with some outstanding players who continued playing in college. When I look back at our season today, it was disappointing. We lost many games that we could've won, which was disappointing because we had a very good team. However, if I didn't go through these experiences, I believe we wouldn't have accomplished anything in my senior year. 
Every single senior was driven towards making our senior season something that was memorable. I wanted nothing more than to win a title my senior year. When I look back at my senior season this school year, I look at it with much joy and happiness. Our team was excellent this year. I was part of one of the best NVD soccer teams in history and learned much from my coaches and teammates. At the back end of the season, we were playing so well that it looked like poetry in motion. I've never had more fun playing soccer than with that team. 
When I look back at our actual results, the season was filled with many ups and downs, such as beating Old Tappan 4-0 at home and losing 2-1 to Ramsey in the State Sectional Semifinals. After the loss to Ramsey, we all shed tears because reality started to hit. We played our final game for NVD. But, every senior had a chance to reflect on everything after the game and shared a really emotional moment together.  
I'm so grateful that I was able to share the field with my best friends.
Track & Field
When I thought about myself as a senior, I didn't think track & field would mean so much to me. I always thought that I'd only do soccer, but that quickly changed after doing track & field. I first participated in spring track my freshman year, but that was quickly shut down because of COVID-19. I started to really compete in track my sophomore year, where I steadily made my way up from novice to varsity. This led to me running the 400m for the first time at the state sectional meet. 
My junior year was the first year I did both winter and spring track & field. Essentially, winter track & field is a season of preparation for the spring season. NVD Track & Field is synonymous with success. We have a fantastic team full of many great athletes who will and are competing in college in the future. Our coaches are adamant and strict about our training. They know we have a target on our backs every time we step on the track.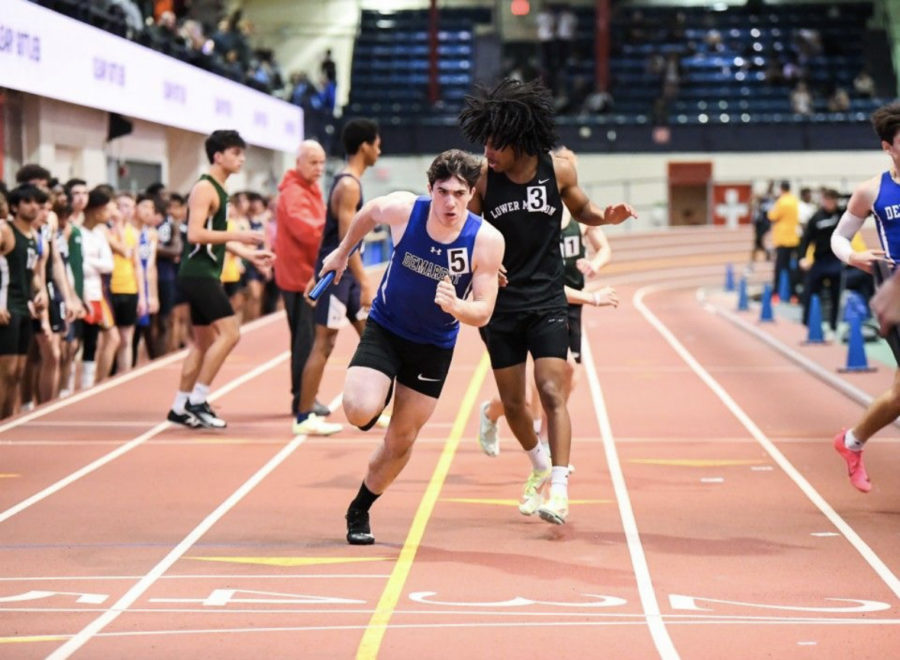 When I reminisce on my favorite memories, it isn't the state sectional championships or competing at Penn Relays; it's the hard anchor workouts. In the moment, they freaking suck and make you feel the worst pain you've ever felt. But, when you think about them on race day or even after you leave high school, they help you a lot. Not only does it prepare your body for the pain of running a 400 as fast as possible, but it proves to yourself that you can challenge your body and mind to the point of failure and still make it out. 
The most important thing I've learned from track & field that applies to real life is that you shouldn't be afraid of the unknown. You must be able to throw yourself out without fear of failure. Life will make you work hard beyond belief, and having experience with testing your body to the fullest will help you prosper through the hard stuff. 
To quote the great Michael Theuerkauf himself, "Every practice, you put a penny in the piggy bank. At the end of the season, you cash in all your earnings for your reward." Track is as simple as this: you won't get better if you don't work hard. It is different from other team sports because you can't hide behind others. What you put into track is what you get out of it. 
There are still many things I would like to accomplish before the season ends. I really want to qualify for nationals and break the school record in the 4×400. Hopefully, when the season is over, we've accomplished this.